FIRESCAPE SIGN NEW AND IMPROVED CONTRACT WITH LFBe
Sir Eric Peacock, Chairman of Firescape Global Limited, along with our Managing Director Gavin Cornelius, attended London Fire Brigade headquarters at 169 Union Street to meet Paul Trew, Deputy Assistant Commissioner at London Fire Brigade. The basis of the meeting was to sign a new and improved contract between Firescape and London Fire Brigade Enterprises that will see the two parties extend their relationship until the end of 2022 at a minimum. Firescape are delighted that their products have been approved by LFBe, and shall work closely to further develop new applications and innovative delivery methods.​
Product demonstrations at the southbank, london
On the 15th of November, Firescape carried out multiple product demonstrations at the Royal Festival Hall, Southbank, London, for prospective clients.
The scenarios demonstrated the the effectiveness and applicability of multiple products, including Extinguish-Safe, Spray-Safe and Pan-Safe.
The Deputy Assistant Commissioner of the London Fire Brigade & Director of the LFBe, Paul Trew was in attendance, in addition to Firescape's Chairman, Sir Eric Peacock.
Firescape at the ife eastern region conference
Come visit us at the Institution of Fire Engineers Eastern Region Branches Conference!
The Eastern region comprising Norfolk & Suffolk, Eastern, Thames Valley and East Midlands branches are hosting a one day event on the subject of 'Fire Safety in Heritage Buildings - Secure or Sacrifice'.
Date: Wednesday 13th September 2017
Venue: Imperial War Museum Duxford, Cambridgeshire.
For more information click here.
​
Pan-Safe, THE must have safety product for every home is now available!
According to U.K. Fire & Rescue Services, nearly 20 people are killed or injured every day in accidental fires that start in the kitchen.
In Greater London alone 50% of fires start in the Kitchen, of which 48% of those fires are caused by cooking.
firescape at firex international
Come visit us at FIREX International 2017 on 20-22 June at ExCeL, London, United Kingdom.
FIREX International is the only event that connects the global fire and security markets, and gives fire and security professionals access to the very latest technology from suppliers across the world, plus the cutting-edge solutions and essential knowledge you need to ensure life safety.
Find us on stand B145 alongside LFBe.
For more information about the exhibition click here.
Following our successful launch event on the 24th April in central London, two decommissioned fire appliances were donated for the recruitment and training of women in the fire service. London Fire Brigade's Commissioner, Dany Cotton, donated one of the appliances and this was presented by LFB's Director of Operations, Tom George, to the Bahamas Fire Service. The second fire appliance was presented and donated to the Romanian Fire Service by Malcolm Etridge of Emergency One. Both vehicles will be supplied with Firescape products.
There was a tremendous turnout with representatives from countries as far away as Australia and Japan. The London Fire Cadets were also present, helping and chaperoning customers and clients.
Please see our Gallery and Social Media pages for further pictures showing various speeches and live demonstrations, as well as a video of the event.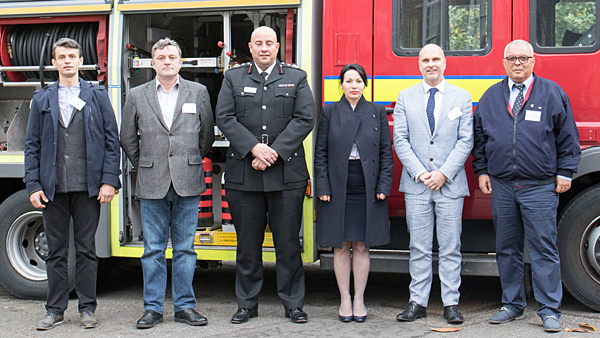 firescape partner with emergency one
Firescape are pleased to announce that we have now established a key Partnership with specialist UK fire vehicle manufacturer, Emergency One.
Below is a statement from their management team:
"Emergency One (UK) Limited understands the need for the UKFRS to look at different ways of tackling the increasingly diverse risks it faces in order to protect the public. We also appreciate that the need to protect the natural environment is a key driver-in selecting those solutions. Emergency One is proud to be working with Firescape and LFBE to provide innovative engineering solutions that allow fire and rescue services to specify or retro fit Firescape products to their appliances and fire fighting systems."
​
firescape FIREFIGHTER TRAINING EXCERCISE
Firescape Global recently partnered with London Fire Brigade, Dorset & Wiltshire Fire and Rescue Service and Hampshire Fire and Rescue Service at the former Prince of Wales Barracks in Bordon, Hampshire. The days
exercise comprised of a number of scenarios using the Firescape products; Extinguish Safe and Bulk Safe, to create training videos for firefighters' uses of the products. The day was a huge success and the former Barracks is a fantastic venue for training managed by Hampshire Fire and Rescue Service. Firescape would like to thank all three Fire services for there support and personnel that attended the day.
​
firescape with japanese firefighters' association
Firescape Global recently met in Tokyo with Mr. Toshifumi Akimoto, President of the Japanese Firefighters' Association, and other senior association members to discuss the benefits of Firescape products for the Japanese Firefighting Services.
​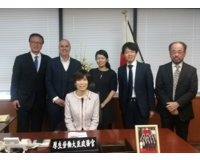 FIRESCAPE meet with japanese minister of welfare
Firescape Global and the Firescape Japan team recently had a meeting with Noriko Horiuchi (Minister of Health, Labour and Welfare) to discuss the benefits of Firescape products for Japan.
​
FIRESCAPE are Attending the INTERSEC EXPO, DUBAI
Firescape will be in attendance at Intersec, the leading trade fair for safety, security and fire protection​. This is held at the International Convention and Exhibition Centre, Dubai from the 22nd the the 24th of January, 2017. Should you wish to meet with one of our representatives please email info@firescape-global.com or visit the London Fire Brigade Enterprises (LFBE) in hall 6, stand B39.
For more information click here
FIRESCAPE support the children's burns trust
Firescape is proud to support such an important charity as the Children's Burns Trust, and we look forward to supporting and raising well needed funds with our partners for the charity's causes.
For more information on the Children's Burns Trust or to Donate, please click here
​
Firescape featured in fire & Rescue magazine q4
Hemming Group Ltd, one of the leading independent providers of business-to-business information and publishers of the Fire & Rescue Magazine, have featured us in their latest addition of Fire & Rescue Magazine - Q4 2016, issue 104. Our feature can be found on pages 56-57, in addition to page 15.
To read/download the electronic copy, click here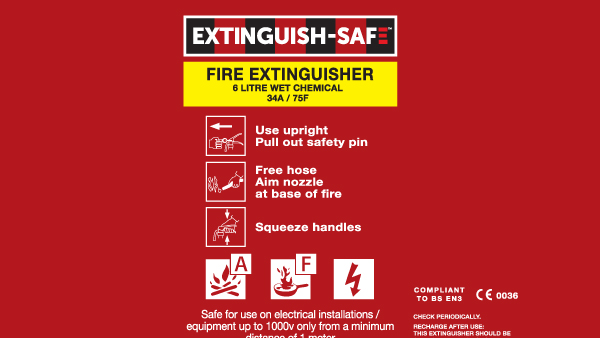 The potential future for Firescape's product 'EXTINGUISH-SAFE' for Fire and Rescue services is to utilise smaller rapid response vehicles, this is because Firescape products have been proven a very effective alternative to conventional fire fighting response methods.
Firescape become an affiliated organisation of IFE
Firescape are pleased to announce that we are now an affiliated organisation of The Institution Of Fire Engineers (IFE). Founded in 1918, the IFE assesses knowledge of fire and professional experience, awarding internationally recognised membership grades and fire-related qualifications. Learning opportunities are worldwide within the IFE fire community and the IFE delivers over 6,000 fire-related exams each year which are required by many Fire and Rescue Services for promotion both within the UK and internationally.
Emergency services show 2016 SucCess
After a successful two day exhibition at the NEC Birmingham, Firescape received lots of interest and positive feedback from potential clients and current partners.
FIRESCAPE at the Emergency services show 2016
Firescape are pleased to announce that we will be exhibiting at the Emergency Services Show, NEC, Birmingham on the 21st and 22nd of September, 2016. We are located on stand D25, and welcome all visitors.
FIRESCAPE at the 2016 UKRO CHALLENGE
Firescape took part in a two-day exhibit at the 2016 UKRO Challenge, hosted by Hampshire Fire and Rescue Service, at their HQ in Eastleigh, Hampshire. Both National and International Fire and Rescue Services attended the event, with much interest being shown in the Firescape product range.
Demonstration for Dublin Fire Brigade
On the 10th of August Firescape Global carried out a successful demonstration in Dublin, Ireland, at the Dublin Fire Brigade training centre. The demonstrations were created to offer a wide range of fire scenarios from a domestic pan fire to a fuel fire, and were co-ordinated by Edwin Mulvey, Director of Sales for Firescape Ireland (edwin.mulvey@firescape-global.com). The demonstration videos can be viewed on our gallery page, highlighting how effective the Firescape products perform.
Sir Eric Peacock has joined Firescape Global Ltd.
We are proud to announce that Sir Eric Peacock has joined the management team at Firescape Global Ltd. and will join the Board as a Non-Executive Director with view to becoming Chairman.
DORSET & WILTSHIRE FIRE AND RESCUE SERVICE
We are proud to announce that Dorset & Wiltshire Fire and Rescue Service are now working closely with Firescape in the research and development of the Firescape product range. Dorset & Wiltshire Fire and Rescue Service have been involved in testing and demonstrations since September 2015, and will continue to assist us in the future testing of our upcoming products and technologies that are to be announced in the near future.
First Cohort of Commonwealth Export Champions
The Commonwealth Enterprise and Investment Council [CWEIC] facilitates trade and investment throughout the 53 states of the Commonwealth and supports private sector companies and governments to promote economic activity. Firescape are delighted to announce that we were recently invited as members of the first cohort of CommonwealthFirst Export Champions, to a breakfast at Marlborough House, Pall Mall, London, on Thursday 7th July. The Commonwealth Enterprise and Investment Council hosted this in conjunction with the Confederation of Indian Industries' annual CEOs delegation to London. The Export Champions have been selected based on their level of impact, innovation, ambition and ability to succeed across Commonwealth markets. The programme will highlight the trade and investment opportunities for UK businesses across the Commonwealth.
Firescape look forward to playing an active role in this member organization.
To see the full news release from CWEIC, click here
Firescape appoint Connor Hubbard
Firescape Welcome Connor Hubbard to the team on a year long placement, as part of his Business Degree. Connor will assist with building a social media presence as well as observing the process of taking a ground breaking product to market, building a strong brand and all the various skill sets required to do this.
Two day exercise 20th & 21ST JUNE 2016 Update
Firescape enjoyed a successful two day exercise co-ordinated by Dorset & Wiltshire Fire and Rescue Service, observed by senior officials from London Fire Brigade and Hampshire Fire and Rescue Service at The Fire Service College, Moreton-in-Marsh, Gloucestershire.
Over the two days further ground breaking research was carried out on a Hybrid motor vehicle with a sizeable lithium battery and multiple tests on thatched (straw) roofs. In the picture you will note there are two piles of burning car tyres. On the left you can clearly see the black acrid smoke and billowing flames as it is tackled by a conventional water fire extinguisher. On the right you can see how within six seconds the Firescape product has extinguished the flames releasing a cool white vapour.
Two day exercise on the 2oth & 21st June 2016
Firescape Global Ltd, London Fire Brigade and Dorset & Wiltshire Fire and Rescue will be carrying out a two day exercise on the 20th and 21st June 2016 with various Fire Brigade application tests, testing our products. This exercise is being carried out at Europe's largest fire fighting testing and training facility at The Fire Service College, Morton-in-Marsh, Gloucestershire. Various objects and materials will be extinguished from a range of tests including car fires, oil/diesel fires and thatched roofs fires etc.
This exercise will demonstrate not only the speed of extinguishing, but also the resultant immediate cooling effect of the Firescape products, preventing re-ignition. These exercises will also demonstrate how Fire Services will best utilise the products going forward to reduce risk and improve safety, reliably and speed of extinguishing fires.
Richard Squire joins Firescape Global LtD.
We are pleased to announce that Richard Squire has now joined the team at Firescape Global Ltd and is responsible for Business Development and will liaise for the company with UK Fire & Rescue Services and other blue light responders. Richard comes with a wealth of experience as a former London Fire Brigade Borough Commander, within his role Richard played a key part in local community safety and contingency planning for the 2012 Olympic Games. Richard retired from the London Fire Brigade in December after a career spanning 30 years.
On the 15th May 2016 Firescape moved into their new London Head Office at 63 St Mary Axe London EC3 8AA. The new office offers plenty of available space for continued expansion, with its prime City of London location that is ideal for transport links and easy access for clients and partners alike to visit.